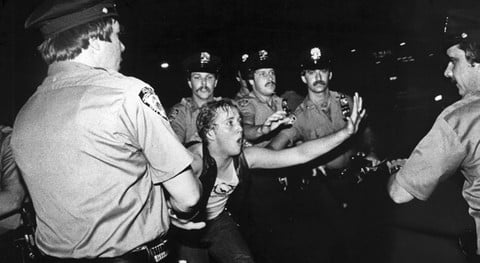 With Occupy Wall Street and Gay Pride set to intermingle this weekend, Linda Hirshman at The New Yorker takes some time to compare and contrast the two movements.
She writes that Occupy Wall Street, with its flash mobs and loose central message, could learn a thing or two about the Stonewall Rebellion, an event she notes was just one of many "gay-bar pushbacks."
What made Stonewall so special is the fact that activists from the relatively  timid Mattachine Society hadn't reorganized themselves into the more radical Gay Liberation Front and made a conscious effort to construct a solid message and action.
If not for [Oscar Wilde Books owner Craig] Rodwell, and the Mattachine's President, Dick Leitsch, two nights of rioting might have been the end. In the previous five years, two similar uprisings in California had come to naught. But the day after Stonewall, a Sunday, teams of activists spread out around the neighborhood, distributing manifestos ("The Hairpin Drop Heard Round the World"). Unlike Occupy Wall Street, the gay activists had a clear list of demands. "Get the Mafia out of the bars," the leaflets proclaimed. "No more police raids."
…
Over the next few months, as the G.L.F. met and debated whether anyone is free until everyone is free and other movement-destroying rabbit holes familiar to the followers of Occupy Wall Street, Rodwell, the bookstore owner, decided to plan a march to commemorate the event on the fourth Sunday in June a year later. Call it the Pride Parade. There have been many gay parades since 1970, but at that time it was a revolutionary notion—that gay people would come out of the closet and into a parade all at once.
Hirshman goes on to say that part of Stonewall's success was the fact that it was simple, rather than involving heady, easily disorganized actions: "[Rodwell] he did not have to get everyone to agree on some lofty mission or to mass in front of a dozen banks to protest everything everybody did wrong, as Occupy did to so little effect on May Day this year. Just come out, as the old gay slogan said. And so they did."