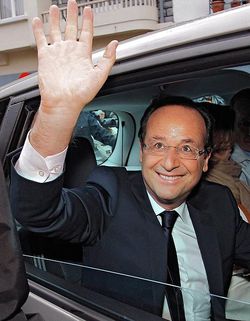 With a new socialist government in place, rumor has it that France will soon see marriage equality become a reality.
President Francois Hollande (pictured), who took office last month, had pledged to legalise gay marriage and adoption during his election campaign but had given no timeframe.

Since Hollande's Socialists won an absolute majority in parliamentary elections two weeks ago, the conservative UMP party, which had opposed the measure under former president Nicolas Sarkozy, can do little to stop it.

"Within a year, people of the same sex will be able to marry and adopt children together," Dominique Bertinotti, junior minister for families, told the daily Le Parisien. "They will have the same rights and duties as any married couple."
Anyone down for a Parisian knot tying?