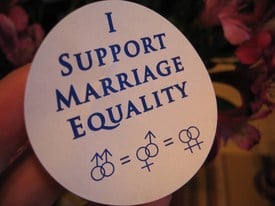 The DC Republican Committee is breaking with its party peers — hello, Texas GOP — by including marriage equality in their official platform.
Their statement, via Joe.My.God:
Yesterday, the DC Republican Committee (DCRC), the DC equivalent of a state party, became the first Republican state party to insert inclusive language into its party platform leading up to the Republican National Convention in Tampa, Florida.

Under the heading of 'Family and Marriage,' the DCRC added, "We, the Republicans of the District of Columbia support the belief that all individuals, without regard to sexual orientation, are entitled to full and equal protection under the laws and the Constitution and that everyone has the right to be treated with dignity and respect."
How long before other GOP committees disown the crew from DC, where same-sex marriage is already legal?