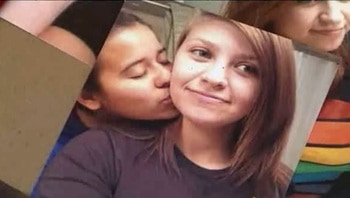 Texas' GetEQUAL is planning a Friday night candlelight vigil 19-year old Mollie Judith Olgin and 18-year old Mary Christine Chapa, the lesbian couple shot last Friday at a Portland, Texas, park.
Olgin was pronounced dead on the scene; Chapa survived a gunshot wound to the head and is recovering in a nearby hospital.
The women had been together for only five months.
Though it is unclear whether this shooting was a hate crime, Michael Diviesti, co-state lead organizer for the group, described the crime one "against humanity." "For that reason alone," he said, "we must stand up as humans [and] support all who are in mourning. When something like this happens to one of us, it happens to all of us."
Diviesti's co-leader, Jay Morris, remarked, "It's during these trying times that the LGBTQ populace must set aside our differences and unite as a community in order to heal the wounds inflicted on us by the intolerant."
There will also be candlelight vigils in San Francisco — organized by Cleve Jones and to be held in Harvey Milk Plaza at 7pm this evening — and Washington DC, where supporters will gather in DuPont Circle at 6pm on Friday night.
Police have yet to question Chapa and no arrests have been made.