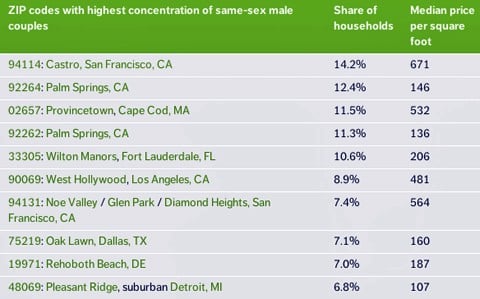 Jed Kolko, Chief Economist at Real Estate website Trulia did some analysis:
Here's what we did. For each ZIP code in the U.S., we calculated the share of households that are same-sex male couples and same-sex female couples, based on the 2010 Census. Then, we combined the Census data on where gay people live with median price per foot of listed homes in each ZIP code on Trulia over the past year.
(The fine print: The Census doesn't ask sexual orientation, of course, so the only way to measure gay neighborhoods is based on where couples live. The Census data requires some corrections and adjustments, described here. Finally, ZIP codes don't line up perfectly with neighborhoods, but we did our best to use the closest neighborhood names that correspond to the ZIP codes in our analysis.)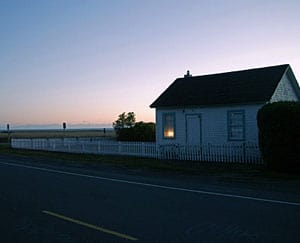 Check out the female same-sex couple analysis, AFTER THE JUMP…
They add:
Just three neighborhoods — Provincetown, Rehoboth Beach, and the Castro — are on both the men's and women's top lists. The top four women's neighborhoods, including Provincetown, are in Massachusetts. But one of the biggest differences is that the top men's neighborhoods are much gayer than the top women's neighborhoods: just one women's neighborhood breaks the 5% barrier, while five men's neighborhoods have more than 10% same-sex male couples. Remember, there are roughly the same number of male and female couples in the U.S. So, that means that male couples are much more clustered in particular neighborhoods than female couples are: female couples are more likely to be the only ones on their block.
Also, there's some fascinating drill down into specific neighborhoods in New York, L.A., and San Francisco on their website.