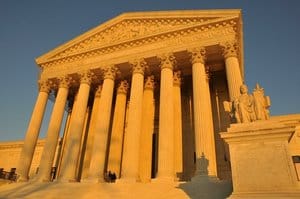 John Boehner and his fellow House Republicans are reportedly ready to take the next step in their defense of DOMA, the law that forbids federal recognition of same-sex marriage.
According to Metro Weekly, GOP leadership on the House Bipartisan Legal Advisory Group will soon ask the Supreme Court to decide whether that 90s-era legislation violates the Constitution.
Just last month, a Massachusetts court, deciding Massachusetts v. U.S. Department of Health and Human Services, ruled that DOMA does indeed violate same-sex couples' protected rights.
We've long expected GOP leadership to take this case, which the Department of Justice refuses to defend, to the court, but they had until the end of August to make it official. Clearly they're chomping at the bit on this one, a case that could potentially null and void a number of related cases.
The news came today in another challenge to DOMA's federal definition of "marriage" and "spouse" contained in Section of the 1996 law. That case, Pedersen v. Office of Personnel Management, was brought by Gay & Lesbian Advocates & Defenders, and BLAG's counsel today asked the court to put that case on hold.

One of the reasons for doing so, BLAG's lawyers said, is because a Supreme Court decision on the constitutionality of Section 3 of DOMA would answer the questions raised in the Pedersen challenge.

…

After BLAG files its petition, other parties have 30 days to file their view. The GLAD plaintiffs, Massachusetts, the Department of Justice and other interested individuals and organizations will be able to give their input as to whether the court should take the case. The court then will consider whether it wants to take the case, a question most scholars expect it to answer in the affirmative as the constitutionality of a federal statute is at issue. It could, however, hold the case in order to await a decision on one of the further DOMA challenges.
If the court takes the case, it could be put on the docket for October of this year, right before the election, which means social issues may very well eclipse the economy as the main topic of conversation before voters head to the polls.
Considering a majority of Americans, including President Obama, support marriage equality, the GOP's decision could inadvertently hurt Mitt Romney, the Republican candidate who continues to oppose marital progress.