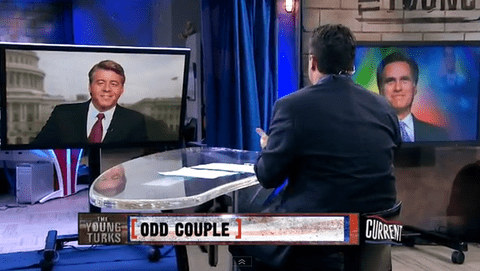 Jimmy LaSalvia tried last night to explain why he and his allies in GOProud, a gay conservative group, endorsed anti-gay marriage Mitt Romney.
"[Romney] has [in the past] demonstrated that he believes we're a part of America" and the marriage debate is simply a distraction, LaSalvia told The Young Turks host Cenk Uygur.
"I know that you want to talk about this issue and the president wants to talk about this issue because the president's record on jobs and the economy and the debt crisis is indefensible," he said. "And I know that's why all the liberals in Washington and across the country want to talk about issues like gay marriage and contraception and everything else to divert attention from the issues that are facing us all."
Later, while discussing gay foreign policy advisor Richard Grenell leaving Romney's campaign after a conservative firestorm, Uygur declares, "[The Republicans] don't like you, Jimmy; they hate you!"
Watch Uygur and LaSalvia hash it out AFTER THE JUMP.