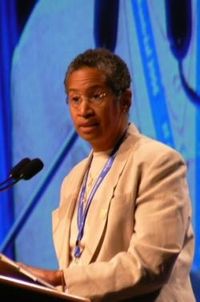 The Honorable Deborah Batts (left) is a Senior Judge on the Southern District of New York. She was nominated to the court by President Clinton in January 1994, was confirmed about five months later, and has served with distinction ever since. Judge Batts has presided over some high profile cases, including a trial involving the 1998 American embassy bombings, a civil suit against former EPA Administrator (and New Jersey Governor) Christine Todd Whitman, and quite a few groundbreaking intellectual property suits.
The Honorable Vaughn Walker recently retired from the federal bench after deciding that California's ban on marriage recognition for gays is unconstitutional. It was the culmination of a diverse and widely respected legal and judicial career that saw his nomination stalled before President George H.W. Bush succeeded in getting him confirmed. He decided countless cases in a variety of areas, but he will forever be remembered as "the Prop 8 judge," the federal judge who began a steady march toward an eventual marriage recognition victory.
Indeed, the careers of Judges Batts and Walker are important for their substantive contributions to law. But, their legacies are so much more than that. They restore our faith in the neutrality and intellectual honesty of judges and lawyers at a time when courts are highly politicized and conservatives and liberals are wont to yell angry invectives at a judiciary that makes decisions with which they disagree.
Judge Walker's career is a particularly good case study in judicial independence. He was first nominated by President Reagan and was supported by leading conservatives like Ed Meese and the late-Senator Strom Thurmond. But his nomination was opposed by prominent California Democrats like Nancy Pelosi,
powerful progressives like the late-Senator Ted Kennedy, and the Human Rights
Campaign. They argued that Judge Walker was too conservative and "hostile" and "insensitive" toward gays and the poor because he represented the National Rifle Association, chemical companies, and the United States Olympic Committee in a trademark lawsuit against a gay organization that blocked the use of the term "Gay Olympics." Mary Dunlap, the San Francisco lawyer who opposed Walker in the "Gay Olympics" case, said that Walker's "lack of compassion and inhumanity and coerciveness certainly disqualify him from consideration for the federal judiciary."
This supposedly antigay judge, the subject of a discriminatory motion from Prop 8 supporters that challenged his ability to be unbiased simply because of his sexual orientation, not only turned out to be gay but also ended up offering a groundbreaking decision on marriage. His subsequent career could best be described as fair, with a libertarian and quirky street. In 2003, Walker required a man who had pled guilty to mail theft to stand in front of a San Francisco post office wearing a sandwich board that read: "I stole mail. This is my punishment." He denied slave-labor reparations requests for descendants of POWs used by Japanese companies in World War II and has called for drug legalization. He has spent his entire career interpreting the Constitution honestly and consistently, never wavering in the face of public pressure.
And lawyers who appeared before him called him a "tough, but scholarly judge." Judge Walker "knows the law and he doesn't suffer fools," and "at the end of the day, you know he cares about the law, the parties, and you." Many practitioners "love[d] appearing in his courtroom." His presence on the bench will be missed.
With Judge Walker's retirement and Judges Fitzgerald's, Oetken's, and Nathan's confirmations, the federal judiciary will have four openly gay judges, three of whom were out when they were nominated. Four is too few, but it is a step in the right direction, a step only made possible by Judges Batts and Walker. The senior judges served with distinction, proved that there is nothing inconsistent with being gay and a great judge, and showed the political and legal worlds that gays are contributing and leading at the highest levels. They were role models and trailblazers not just for young lawyers, but for anyone who wants to see honest and apolitical interpretations of the Constitution.
***
Ari Ezra Waldman teaches at Brooklyn Law School and is concurrently getting his PhD at Columbia University in New York City. He is a 2002 graduate of Harvard College and a 2005 graduate of Harvard Law School. His research focuses on technology, privacy, speech, and gay rights. Ari will be writing weekly posts on law and various LGBT issues. 
Follow Ari on Twitter at @ariezrawaldman.