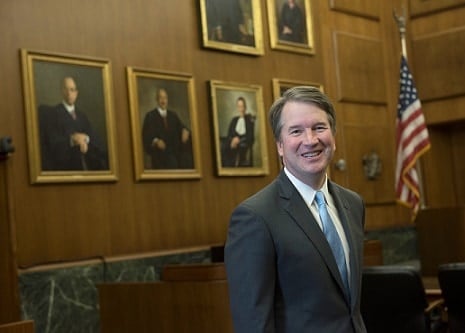 Judge Brett Kavanaugh is not only a threat to a woman's right to choose and to LGBTQ equality. He is a danger to the government's ability to regulate pretty much anything.
Judge Kavanaugh (not to mention Justices Thomas and Alito) has questioned the legitimacy of what lawyers call the Chevron doctrine. Chevron is a 1984 Supreme Court case that established a doctrine of court deference to administrative agencies. The case itself concerned a rule made by the EPA; in fact, the EPA, which was run at the time by Anne Gorsuch, Neil Gorsuch's mother, had weakened a Jimmy Carter-era rule based on the Clean Air Act.
When the Natural Resources Defense Council sued, the Supreme Court eventually ruled in favor of the EPA, arguing that a court should give deference to an administrative agency tasked with interpreting the words of a statute. The scientists at the EPA, after all, are the experts. A federal judge is not. This doctrine, which to some extent clarified a federal court approach, is at the backbone of the modern administrative state. It allows federal administrative agencies to make rules and regulations passed by Congress. As such, it has been in conservatives' cross hairs for years. They see Chevron deference as a tool of regulation and they want to get rid of it so their conservative judges in the federal judiciary can declare regulations void.
Judge Kavanaugh has also staked out a radically conservative approach to gun rights. Kavanaugh believes that the Second Amendment confers a right on every individual to not just own a gun, but to brandish it in public. In Heller v. D.C., he wrote a dissent in which he argued that neither Congress nor the states can pass a law that bans semi-automatic rifles.
Nor does he believe that the federal government has any power to regulate the environment. In EME Homer City Generation v. EPA, he argued that because individual states experience the effects of pollution differently, they should have the power to make environmental rules on their own. The EPA could set general standards, he said, but states should have the ultimate authority to determine how to meet those standards within their states.
Not only was that decision later overturned by the Supreme Court, but it is also remarkably unsound. The environment is the most public of public goods. A person in one state can be downwind of a factory in a neighboring state and experience negative effects if the plant is unregulated. That Kavanaugh cannot even recognize the cross-border nature of the natural environment shows how radical he really is.
As a judge on the DC Circuit, Kavanaugh has written or dissented in many cases involving the environment. In almost all of them, he has sought to rein in the power of the Obama-era EPA.
Kavanaugh also has a broad view of executive power. When Congress drafted the Consumer Financial Protection Bureau, it did so in a way that protected it from the president and Congressional meddling. Congress wanted to keep politics out of it. This was too much for Kavanaugh. It was too independent, he wrote in PHH Corp. v. CFPB. He preferred more presidential power, probably so conservative presidents could weaken it.
He doesn't believe that companies, even non-religious ones, should have to provide birth control to their employees. Nor did he feel that an undocumented teen should be allowed to terminate her pregnancy.
In labor and employment law cases, Kavanaugh favors big business. In 2016, in Verizon New England v. NLRB, he reigned in pro-union expression. In National Association of Federal Employees v. Vilsack, he argued that the government needs no individualized suspicion to subject its employees to drug testing.
That may also speak to his dim view of privacy. Kavanaugh had no issues with the NSA's dragnet surveillance program that gathered telephone metadata on millions of Americans and some foreign nationals. Such activities, he argued, did not raise Fourth Amendment concerns because the numbers we dial are freely handed over to the phone company and, therefore, not private. This doctrine, known as the Third Party Doctrine, still remains in Fourth Amendment law. But it was recently curtailed with respect to long term dragnet location-based tracking in Carpenter v. US.
Kavanaugh is at the extreme right of the legal community, and he is about to cement an extreme right majority on the Supreme Court.