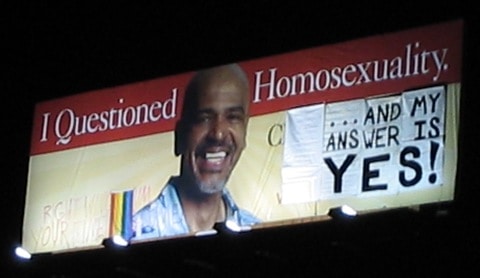 As I mentioned yesterday, the group Exodus International, once primarily known for an "ex-gay therapy" they have officially disavowed yet still tacitly support by claiming same-sex desire is an illness, is gathering in Minneapolis this weekend for their annual conference. They're not the only ones.
Minnesota Public Radio reports that LGBT activists are planning to protest out the event — and one of them is a former member, a psychologist named Jeffry Ford.
As a married, born-again Christian in the 1980s, he led an Exodus-affiliated group in Minnesota while struggling with his own gay feelings. Ford believed he could make them go away, and tried prayer, electroshock therapy, an exorcism, and a 12-step program called Homosexuals Anonymous.

"I was sincere, and I was sincerely deceived, and I was sincerely doing things and encouraging things for people that were ultimately very hurtful."

When he was the ministry's director, Ford says committed gay couples would ask him how to come to terms with their relationships while adhering to a strict interpretation of the Bible.

"I told them they could be best friends, but they couldn't keep living together and they couldn't keep sexualizing their relationship anymore," Ford said. "My heart breaks when I think about what that kind of teaching does to people."
Exodus president Alan Chambers has been making the press rounds to defend his group and in doing so, told MPR that he doesn't identify as gay or ex-gay, even though he's still attracted to other men.
"I hate the term 'ex-gay,'" he said. "I wouldn't call myself a gay man. I'm a husband, I'm a father, I'm a Christian, I'm a pastor, I'm a darn good gardener, I can decorate with the best of them. I think 'gay' falls short of the description of who I am, and 'ex-gay' falls equally short."
There is a word that describes Chambers, but I can't quite think of it — it's on the tip of my tongue. A little help, reader?