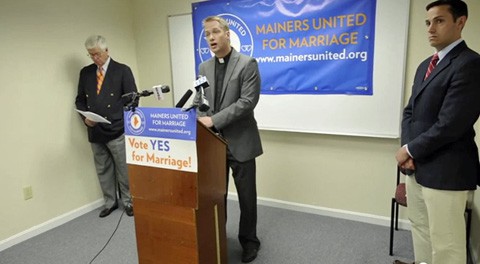 Mainers United for Marriage, the group seeking to pass marriage equality in Maine via a ballot measure this November, held a press conference today to express their unhappiness with the ballot language Maine Secretary of State Charlie Summers released a week ago, which reads: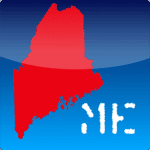 "Do you want to allow same-sex couples to marry?"
While that language appears simple and clear, marriage equality supporters are concerned that it does not properly reflect the religious protections that would be assured by passage of the law.
MPBN reports:
Matt McTighe, campaign manager for Mainers United for Marriage says the law, if passed would actually do something else as well: "It would add a new section to Maine's marriage law to strengthen and protect religious freedom by ensuring that no church or clergy be required to perform or host any marriage that goes against their religious beliefs," McTighe said at a news conference today.
McTighe says that language was included in the petition that gathered 105,000 signatures to put the question on the ballot. Regardless of what the final question says in November, those religious protections will be included in the law. But McTighe says Mainers should be clear on what they're voting for.
There is another reason McTighe wants language about religious freedom in the ballot question. "Opponents of marriage are already trying to scare voters into thinking their church could be forced to perform or recognize same-sex marriages or that their tax exempt status would somehow be put at risk. Nothing could be further from the truth," he said.
Christian groups are also trying to change the language – to have it ask "if the people of Maine want to redefine marriage."
MPBN adds:
At the Secretary of State's office, spokesperson Megan Sanborn says they've received many responses to the ballot question in the week since they initially released the draft wording. "Those comments range from wanting to add something to the question, and some people really like the simplicity of the question and appreciate that, so we've kind of gotten a wide rage of responses," she says.
Sanborn says once the public comment period is over in a few weeks, the secretary of state will decide whether to revise it.
Watch Pastor Michael Gray from the United Methodist Church in Old Orchard Beach, who was the lead signer of the pro-marriage equality petition speak at the presser, AFTER THE JUMP…