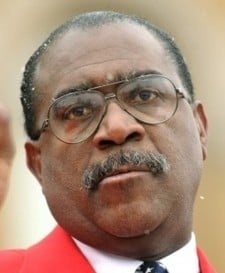 Rev. Keith Ratliff, the President of the Iowa/Nebraska NAACP, last month said he was considering leaving the organization over the group's support of marriage equality. Now it's official: he's out.
Ratliff, a pastor at the Maple Street Missionary Baptist Church in Des Moines, officially cut ties with the NAACP this week.
Here's some more background on Ratliff:
During a March 2011 Iowa Statehouse rally by supporters of a state constitutional amendment to ban same-gender marriage, Ratliff complained that gay rights activists had "hijacked" the civil rights debate.

"There is no parallel" between gay rights activism and the civil rights movement of the 1960s, said Ratliff, whose church has a predominately black membership. "That is an insult to the civil rights movement."
He added, "Deviant behavior is not the same thing as being denied your right to vote."
It's unclear who will take over for Ratliff, but surely it will be somebody who supports the NAACP's inclusive politics.