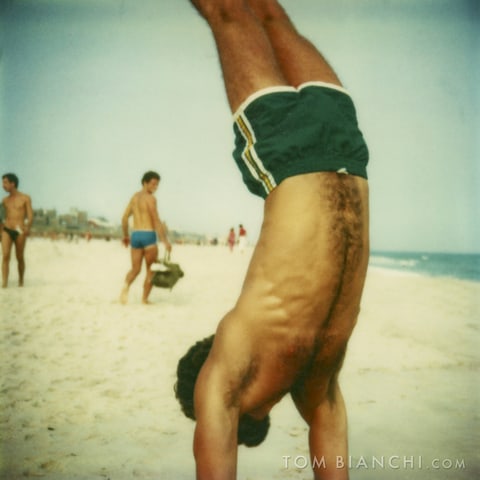 With summer upon us and many of the New York region's gays heading to Fire Island for some sun and fun, photographer Tom Bianchi's preparing to publish a collection of vintage polaroids in his new tome, Fire Island: The Book, within which you may to see some pretty famous faces who at that point were well in the closet.
"At the time, people were very shy and not out, so pictures could be very damaging," Bianchi told David Toussaint at Guy Spy. "By doing it as Polaroids, I could go to a party and people would see what I was doing, and it was clear that I was shooting atmosphere, not identity. Calvin Klein was out there, David Geffen. You could go through just about every creative field. Perry Ellis, Peter Allen, Jerry Herman; he wrote Hello, Dolly! on his house on the beach."
While many of the pictures feature well-chiseled men cavorting on the beach, Bianchi insists the book is more about celebrating a by-gone era than just the hot bodies.
"The book is a nostalgic remembrance of what was lost," the 66-year old photographer said. "When AIDS hit, the Pines was dead center, ground zero. It would happen within the space of a summer. If there was a house that had six friends, come spring you would discover that everyone in the house had died."
Check out some not work friendly images of Bianchi's book over at Guy Spy (again, work unfriendly).