Who needs bombs when you have insidious computer "worms" to knock out Iran's nuclear facilities?
The NYT reports on the unintended leak of U.S. efforts to attack Iran's nuclear capability with a cyber-"worm", and the President's order to escalate: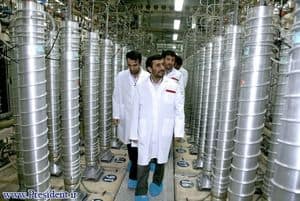 "Should we shut this thing down?" Mr. Obama asked, according to members of the president's national security team who were in the room.
Told it was unclear how much the Iranians knew about the code, and offered evidence that it was still causing havoc, Mr. Obama decided that the cyberattacks should proceed. In the following weeks, the Natanz plant was hit by a newer version of the computer worm, and then another after that. The last of that series of attacks, a few weeks after Stuxnet was detected around the world, temporarily took out nearly 1,000 of the 5,000 centrifuges Iran had spinning at the time to purify uranium.
This account of the American and Israeli effort to undermine the Iranian nuclear program is based on interviews over the past 18 months with current and former American, European and Israeli officials involved in the program, as well as a range of outside experts. None would allow their names to be used because the effort remains highly classified, and parts of it continue to this day.