The Canadian man who was caught in Berlin earlier this week after following an international manhunt linked to charges he murdered and dismembered his boyfriend and sent the parts in the mail, is being investigated in the case of Harvey Medellin, a gay man whose body parts were found near the Hollywood sign in a high-profile case last winter, The Independent reports: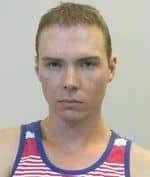 The Los Angeles police department is investigating the possibility that Luka Rocco Magnotta, who was the subject of an international manhunt, was involved in a gruesome murder and decapitation where the victim's hands and head were placed near the Hollywood sign in Los Angeles.
The grisly discover of the body parts of retired airline worker Hervey Medellin was made by a woman walking her dog near the landmark in January.
Investigators says that it is unlikely that 29-year-old Magnotta, who was arrested in Germany this week, was involved in the Los Angeles murder case but are investigating his whereabouts at the time of the killing.