Ugandan police have again raided a meeting of LGBT and human rights activists, this time in Kampala, AFP reports: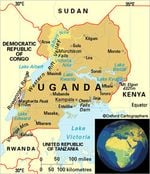 East and Horn of Africa Human Rights Defenders Project, the organisation behind the workshop, said that police interrupted the meeting and began questioning participants at the event, including activists from Canada, Kenya and Rwanda. The police forced their way into some of the activists' hotel rooms, the group said in a statement. The training workshop was intended to bolster the local gay community's abilities to report rights abuses, the statement said.
Activists denounced the raid:
"This ludicrous and senseless harassment of human rights activists has no basis in law whatsoever and has to stop," Michelle Kagari, Amnesty International's deputy director for Africa, said in a statement. "We are seeing a worrying pattern emerging whereby the Ugandan authorities engage in arbitrary activities deliberately designed to intimidate and threaten legitimate human rights work," Kagari said.
In February, a conference of LGBT activists and human rights defenders being held at Imperial Resort Beach Hotel on Lake Victoria in Entebbe, Uganda was interrupted  in a raid led by State Minister for Ethics and Integrity Simon Lokodo, who ordered it halted and the organizer arrested.