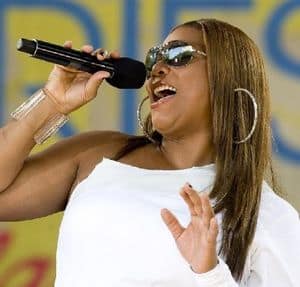 Queen Latifah wants it known: Despite rumors to the contrary, Queen Latifah's performance at Lesbian & Gay Pride in Long Beach was not a coming out party.
From Entertainment Weekly:
"That definitely wasn't the case," she tells EW. "I've never dealt with the question of my personal life in public. It's just not gonna happen."
Although she insists she hasn't and won't come out, Latifah did refer to the assembled LGBTfolk in Long Beach as "her people." She also said, presumably of performing at a pride celebration, "I've been waiting to do this a long time."
Though Long Beach was Queen Latifah's first pride event, she's performed for all-gay audiences before. In EW, she shares this anecdote: 
"My first show that paid more than $10,000 was in a gay club on New Year's Eve in San Francisco. Tupac happened to be in town, so he came to kick it with me. This was the early '90s. And the boys were like, 'Take your shirt off, Tupac!'  He wasn't doing that. But we had a blast in there."