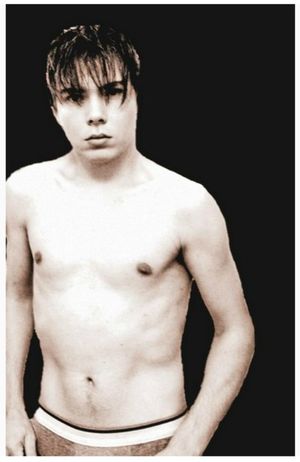 The young man pictured at right is Canadian porn-star turned international fugitive Luka Rocco Magnotta. As Andrew reported Thursday, Magnotta is suspected of dismembering his boyfriend, 33-year-old Chinese student Jun Lin, who was studying in Montreal. Magnotta is thought to have videotaped the killing, and to have attempted to mail Lin's body parts to the Liberal Party of Canada.
A recap, from CBCNews:
The Chinese consulate in Montreal said Jun Lin was from the city of Wuhan, in central China, and arrived in Montreal in July 2011 to study.

According to people who knew him in Montreal, Lin used Justin as a given name, and Patrick on his Facebook profile.

He was registered as an undergraduate student in engineering and computer science at Concordia University.

Lin had moved into a new Griffintown-area apartment with a roommate, on May 1.

He kept to himself and acted as any "nice guy" would, according to his superintendent, Fred Hedriana, who said "he looked like a gentleman."

His neighbour Tyson James told CBC that Lin played his music "pretty loud," but that, "It hasn't been happening in the last few days."

Lin was last seen by friends on May 24 and according to police was killed on May 24 or 25.
Lin's disappearance was reported to the Chinese consulate on the 29th, and the consulate in turn reported it to the police. That was the same day the grisly parcels were discovered en route to the Liberal Party, and a human torso was found in a trashheap in Montreal. After a "grisly" crime scene was discovered in Magnotta's apartment, police initiated a country-wide search for him.
But it seems Magnotta had already left the country by then, and now a "senior French police official" says he's "sure" Magnotta's hiding out in France. From CBCNews:
Interpol posted a picture and information on Montreal resident Magnotta on its website Thursday among a group of many international suspects wanted for crimes including homicide, kidnapping and organized crime.

Interpol's involvement came after Montreal police issued a worldwide warrant for first-degree murder.

Clues at the Montreal crime scene led police to expand their search abroad, police said on Wednesday.

"We found some evidence," said Lafrenière. "We found, also, a letter that was posted on a website making us believe he might be gone out of the country."

He said they were working with airport officials in Montreal as well, but wouldn't disclose any information they had provided.

"There is no country in the world that is not talking about him," Lafrenière said. "There's a lot of heat on him. There's a lot of pressure on him, so we believe that it's going to be hard for him."