Dan Savage, who got some attention last week for tweeting "The GOP's house faggots grab their ankles, right on cue. Pathetic." after conservative gay group GOProud endorsed Mitt Romney for president, hasn't finished that thought.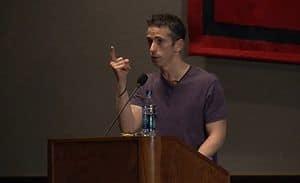 He's been thinking about why conservatives would choose to endorse someone who hates them, comparing the self-destructive behavior to substance abuse:
I've been out for a while and I've seen my share of damaged gay dudes destroy themselves. Watching a friend drink himself to death or drug himself to death or f**k himself to death—or all three-at-once himself to death—isn't pretty. And here's something I've noticed about the self-hating, self-destructing gay guys I've known: it wasn't good enough for them to destroy only themselves. They had to destroy other gay men too. Using meth wasn't enough—they wanted their friends to use meth too. Abusing alcohol wasn't enough—they insisted that their friends match them drink-for-drink. And spinning out of control sexually wasn't enough—they wanted their friends to join them down at the bathhouse. (And for the record: having been damaged by hate and homophobia as a child explains but it doesn't excuse self-destructive behaviors in adulthood. You're responsible for the choices you make.)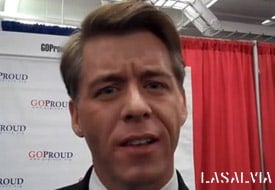 Savage continues:
Anyway, mixing it up with GOProud last week got me thinking about why a gay man would endorse—much less "commit significant resources" to help elect—a man who has pledged, if elected, to do as much harm as he possibly can to gay people. I mean, what kind of faggot supports a politician who would do him harm?
Oh, right: the same kind of faggot who would harm himself with drugs or alcohol or sex. The kind of gay men who don't like themselves or other gay people much. But while most self-loathing, self-destructive gay men are content to abuse booze, drugs, or dick, the self-hating GOProud boys abuse themselves with politics. And just like gay meth addicts who aren't satisfied harming only themselves, the boys at GOProud aren't satisfied harming only themselves. They want to harm other gay people—they want to harm all gay people—by getting Mitt Romney elected. And just like your meth-addicted friend who pushed the drug on you, or your drunk friend who mocked you for stopping at four, or your sexually out-of-control friend who insisted that you were a prude if you didn't play the come dump with him down at the bathhouse, the GOProud boys want you to abuse yourself the same way that they're abusing themselves. They want you to vote for Mitt Romney for the same reason your meth-addicted pal wanted you to use that stupid drug.
Because they're damaged.
Read Savage's full post, and Twitter responses from GOProud's Chris Barron, HERE.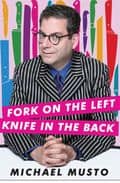 The Village Voice's Michael Musto has also been mixing it up with GOProud over the issue. Musto called the group "a bunch of Jewish Nazis. Black Klan members! Women who campaign for Rush Limbaugh! Mexican Republicans! Roaches who moonlight as exterminators!"
I always thought that any gay who backs a candidate that doesn't support equal rights must have some very scary death wish. It's self-defeating and downright creepy!
GOProud's silly retort to Musto?
It caused a firestorm of response, both pro and con, and led to this official response from the group's executive director, Jimmy LaSalvia:
"Have you seen Michael Musto lately? We aren't going to take serious political advice from a human Muppet. Musto should stick to writing gossip pieces about Lindsay Lohan and leave politics to the professionals."