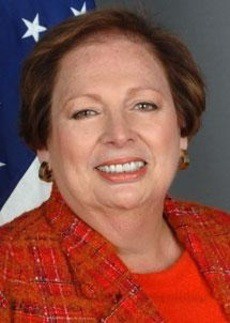 You may recall that last December Republican senators blocked the confirmation of Mari Carmen Aponte, an Ambassador to El Salvador picked by Obama, because of a pro-LGBT editorial Aponte wrote in an Salvadoran newspaper in 2010.
"[Aponte's] decision to publish an opinion piece hostile to the culture of El Salvadorans presents even more doubts about her fitness for the job. This op-ed upset a large number of community and pro-life groups in El Salvador who were insulted by Ms. Aponte's rhetoric," said Sen. Jim DeMint at the time about Aponte's op-ed, in which she insisted "homophobia and brutal hostility are often based on lack of understanding about what it truly means to be gay or transgender."
Well, the Washington Blade today reports that Aponte has finally been confirmed.
The U.S. Senate broke an impasse on Thursday to confirm a U.S. ambassador to El Salvador who had previously been denied the position in part of because of a pro-gay editorial she wrote in one of the country's newspapers.

The Senate confirmed Mara Carmen Aponte, a D.C. lawyer and activist, to the role by voice vote after senators voted 62-37 to cut off debate on her nomination.
…
All Senate Democrats voted "yes" on cloture for her nomination. Republicans who joined them were Sens. Kelly Ayotte (R-N.H.), Scott Brown (R-Mass.), Susan Collins (R-Maine), Lindsey Graham (R-S.C.), Richard Lugar (R-Ind.), John McCain (R-Ariz.), Lisa Murkowski (R-Alaska), Marco Rubio (R-Fla.) and Olympia Snowe (R-Maine).
Sen. Harry Reid applauded the decision, saying, "During her recess appointment, Ambassador Aponte was an outspoken advocate for American values and democracy, and a staunch supporter of U.S. private enterprise." The Blade also reports that Secretary of State Hillary Clinton personally called senators and urged them to back the confirmation.