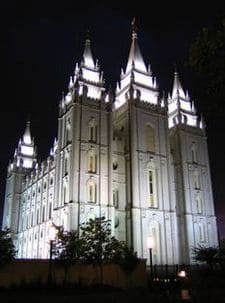 Good news for Mormon LGBT people and their families. The Family Acceptance Project at San Francisco State University today released a new booklet published specifically to help Mormon youth and their parents come together for the coming out, rather than letting religious beliefs rip them asunder.
Called Supportive Families, Healthy Children: Helping Latter-day Saint Families with Lesbian, Gay, Bisexual & Transgender Children," the 25-page booklet "blends Mormon scripture and statements on family from church presidents with research that shows family support and acceptance to be critical to the health and well-being of gay youths," says the Chicago Tribune.
The paper offers more specifics on why it's important to have a Mormon-specific guide.
Traditional marriage is deeply woven into Mormon theology, and the lines between religion and culture are blurred. Mormons also believe that families are eternal, so disassociation with family or excommunication from the church, which has occurred for some gays, can mean the loss of the promise of religious salvation, [former Mormon bishop and co-writer Robert] Rees said.

Church attitudes are shifting, however, he said. The faith now regards the origins of sexual orientation as less than fully understood and differentiates between feelings and actions when considering disciplinary action. Gay Mormons are welcome in church but only those who remain celibate can enjoy full membership.
And where's the fun in that?