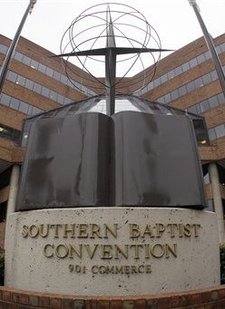 Southern Baptists gathered in New Orleans yesterday to set out the convention's official policies, including their position on same-sex love. Shocker, they're against it.
In their resolution, the group insists that marriage is "the exclusive union of one man and one woman" and "all sexual behavior outside of marriage is sinful," according to the Washington Post.
The resolution also says that while LGBT people have "unique struggles," they are not distinguishable enough to deserve "special protections." Nor are struggles for equality akin to past civil rights struggles, they say.
The resolution reads, "It is regrettable that homosexual rights activists and those who are promoting the recognition of 'same-sex marriage' have misappropriated the rhetoric of the Civil Rights Movement."
One pastor, Rev. Dwight McKissic, said any comparison between gay rights and civil rights is "unfair." "They're equating their sin with my skin," said McKissic, who is black.
Southern Baptists are also calling on the Justice Department to support DOMA and want Obama to let military personnel and chaplains speak out against same-sex relationships.
All of this anti-gay action comes just one day after the 167-year old Southern Baptist Convention elected Rev. Fred Luter Jr. as their first black president.