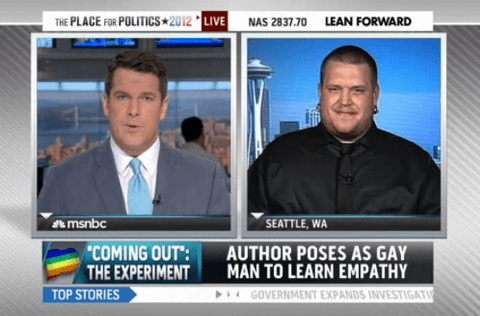 Nashville resident Timothy Kurek says his religious upbringing taught him that gay people are sinners, and that for years he acted like a straight up bigot toward them. Then, after a friend was ostracized by her family for coming out, Kurek decided to pose as a gay man to see if his past fears were warranted.
They were not, he learned. Now Kurek is writing a book about the experience and stopped by MSNBC today to discuss his project.
Gay anchor Thomas Roberts doesn't seem quite sure what to make of Kurek, and wondered how the author can "validate" his experiment to people who are actually LGBT and may be offended by his work, particularly since his research only entailed hanging out in Nashville's gay neighborhood.
In response, Kurek readily admits "there is no way I could possibly understand what it's like to actually be gay."
"The book itself is not at all about what it is like to be gay, but only about ho the label of gay impacted my external life and how those things kind of altered my faith and challenged my beliefs," he said.
Kurek also explained that his family, though very religious, was supportive and that he hopes his work — something of a 21st century update of Gentlemen's Agreement — can change some religious conservatives' minds.
Surely readers will have something to say about this, so watch the video and sound off AFTER THE JUMP.