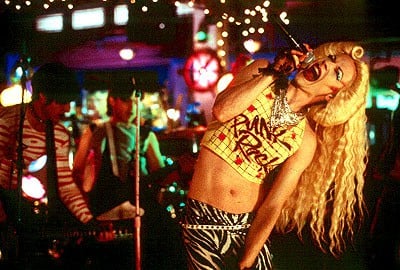 Kevin Sessums had coffee with John Cameron Mitchell this week who told him all about the sequel he's working on to Hedwig and The Angry Inch. He's also going to reprise his role on September 16th at a special performance at this year's Afterglow Festival in Provincetown, Massachusetts. And now Kevin's teasing us on his Tumblr:
He then went on to tell me in detail the narrative of the sequel for which Hedwig's original composer Stephen Trask will write the music once more. There was such sweet excitement in his voice as he told me scene after scene, much like the sweetness and excitement he first had when so many years ago we sat in another coffee shop and he shyly admitted he was writing the role of a transgendered rock'n'roller so he could play it himself."
Adds Sessums:
I'll never forget the night I first saw him perform Hedwig in one of those first performances of the show at the theatre at Westbeth. I had never seen that side of John. Hell, I'd never even seen him with a wig on. But he was able to combine his innate sweetness with Hedwig's hellacious swagger to create one of the most original theatrical characters I had ever seen. He bowled me over and broke my heart all at the same time. His brilliance that night still burns in my memory.
As for the sequel? Let's just say it's something that could only happen to Hedwig – a phantasmagoria with dollops of brutal reality interwoven into its multi-media narrative.
Said Mitchell about the new Hedwig plot: "We spend so much of our early lives trying to figure out who we really are. And we spend the rest of our lives preparing ourselves to let it go."