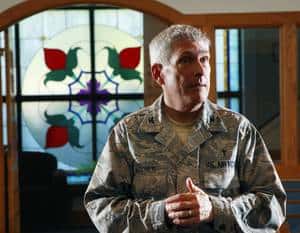 Col. Timothy Wagoner, a Christian chaplain with the United States Air Force, has departed the Southern Baptist Convention after complaints about his attendance at a same-sex civil union ceremony.
Col. Wagoner did not officiate at the ceremony — he'd previously made clear that he would conduct no rituals that violate the teachings of his denomination. From The Oklahoman:
Wagoner had told the AP that he decided to attend as a show of support for the base community, for [Tech Sgt. Erwynn Umali, who was being joined in a civil union to civilian Will Behrens], and for the Evangelical Lutheran chaplain, Col. Kay Reeb, who presided over it.

"I wouldn't miss it," Wagoner said, describing the ceremony as beautiful.
The ceremony occurred in June, and Wagoner's conversation with the AP took place in either late June or early July. The resulting article, "Air Force chaplains adjust to gays serving openly," was blogged about here by Andrew Belonsky, under the title "No 'Mass Exodus' Of Military Chaplains Post DADT-Repeal." The article was also noticed by Col. Wagoner's co-religionists, who must hope that the DADT repeal will at least result in a mass exodus from the Southern Baptist Convention. The SBC Press got Col. Wagoner on-record against same-sex unions, explaining that he was in attendance at the civil union ceremony only as a sign of friendship and respect, and not because of any theological agreement. This wasn't satisfactory. It is not enough, in the Southern Baptist Convention, to object to same-sex unions; one must also boycott them, and treat those engaged in them with either hostility or indifference. The Southern Baptist Convention planned a videoconference with its chaplains to explain this point, and Col. Wagoner, after 20 years with the Convention, decided he'd had enough. The SBC Press announced his departure on the 20th. He will continue to serve as a chaplain under the imprimatur of the Cooperative Baptist Fellowship.