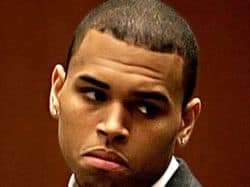 R&B singer Chris Brown, who has been in desperate image-fixing mode since brutalizing his ex-girlfriend Rihanna, probably put his foot in it last night while he departing a club called Gotha in Cannes, when he was asked by a reporter for his feelings on Frank Ocean, the singer/rapper who came out early this month. Said Brown: "Man, no homo!"
There is a non-offensive use for the phrase "no homo" — when two young heterosexual men who don't quite know each other are sharing a bit of fraternal affection and don't wish to give each other the wrong idea — but it's a good bet that Brown didn't mean to be inoffensive. As PRLog points out:
Brown has had run-ins with Ocean before, in 2011 the two exchange hate tweets that eventually erupted into Brown sending family members to attack Frank Ocean.
Plus, Brown's publicly paraded his homophobia before — at a pickup basketball game, for instance, in which he berated his teammates, all strangers, by calling them "gay" and responding to missed shots with cries of "faggot."