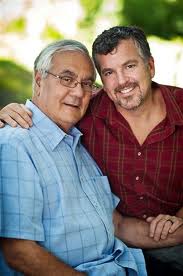 Congrats to Rep. Barney Frank, who got married in Newton, Massachusetts last night to Jim Ready: a welder, carpenter, and small-business owner who's exactly 30 years Rep. Frank's junior. (That makes Mr. Ready 42.) The ceremony took place on the banks of the Charles River. From the New York Times:
… in vows written by the couple, Mr. Frank and Mr. Ready pledged to love each other "on MSNBC or on Fox" and "in Congress or in retirement," a reference to Mr. Frank's decision not to seek another term.
The pair met at a fundraiser in 2005. Mr. Ready was involved with his long-time boyfriend, Robert Palmer, who was suffering an unspecified, terminal ailment. Mr. Frank was impressed with Mr. Ready's devotion to his partner. After Mr. Palmer died, the congressman and the welder became friends, and then more. From the Times:
In past relationships, Mr. Frank had enjoyed carving out time for himself; with Mr. Ready, the reverse was true. "It immediately made me feel very unhappy" to contemplate spending time without him, Mr. Frank said.
On their many days apart, the Times reports, Mr. Frank and Mr. Ready watch the same TV shows while speaking on the telephone.
Mr. Frank is the first member of the United States House of Representatives to marry a member of his own gender.