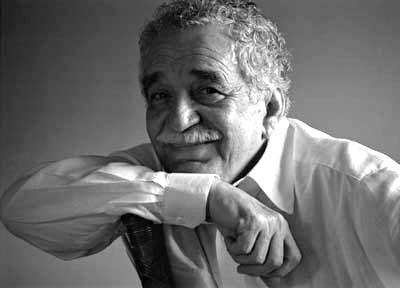 Brother of Gabriel Garcia Marquez publicly acknowledges that the author is suffering from dementia, and no longer writes:
"He has problems with his memory. Sometimes I cry because I feel like I'm losing him," he said.
… invited to talk about his relationship with Gabo, as the writer is affectionately known in Colombia, Jaime said he could not hold back from talking about his illness anymore.
"He is doing well physically, but he has been suffering from dementia for a long time," he said. "He still has the humour, joy and enthusiasm that he has always had."

Eight more gay activists arrested in St. Petersburg.

The New York Times on the fracturing of the "ex-gay" movement; and an interview with Exodus International's Alan Chambers:
Only a few years ago, Mr. Chambers was featured in advertisements along with his wife, Leslie, saying, "Change is possible." But now, he said in the interview, "Exodus needs to move beyond that slogan."

"I believe that any sexual expression outside of heterosexual, monogamous marriage is sinful according to the Bible," Mr. Chambers emphasized. "But we've been asking people with same-sex attractions to overcome something in a way that we don't ask of anyone else," he said, noting that Christians with other sins, whether heterosexual lust, pornography, pride or gluttony, do not receive the same blanket condemnations.

London Pride.

CNN on the push to eliminate the United States' gay blood-donor ban:
… Since the 1980s, when the AIDS epidemic decimated their community, gay men — or MSMs (men who have sex with men) as they are called by federal agencies –– have not been allowed to donate blood. In June, a group of 64 U.S. legislators led by Rep. Mike Quigley, D-Illinois, and Sen. John Kerry, D-Massachusetts, sent a letter to the Department of Health and Human Services encouraging it to move forward with a study that may lead to the end of the decades-old ban.

"This is a matter of life and death and we are turning away over 50,000 healthy men who want to donate blood," Quigley told CNN. "A straight person who has unsafe sex with multiple partners can give blood, and that creates a greater risk than a gay person in a monogamous relationship."
Obamafan serves the President eggs, bacon, toast, grits; dies happy.

Henceforth, 17 Magazine shall use only un-airbrushed, well-fed models.

The Guardian's Tom Shone goes gay for Magic Mike, and a lot of other movies, too:
The screen is an equal opportunity seducer – polymorphically perverse. If you are a man (or a woman) and you watch the famous scene in Notorious where Cary Grant nibbles Ingrid Bergman's ear while she is answering the phone, you don't feel two different things depending on which half of the screen you look at. I don't look at Bergman and go "yummy" and then look at Grant and go "shame about him." Such is the heat of the movie screen that every grain and pixel is suffused with longing. The fact is: I have spent as much time in the dark of the movie theatre watching men kiss and be kissed, and getting a kick out of it, as I have women.

Amazon to enter the smartphone market.

George W. Bush spent the 4th in Zambia:
He worked alongside other volunteers in Kabwe – Zambia's second-largest city – to renovate a health clinic which specializes in the early detection and treatment of cervical cancer.

"You're always the former president but I wanted to come here as a laborer…I do want to say that on this particular trip that myself and friends have left behind a clinic and hope to inspire others to come and refurbish clinics as well," Bush said.

Bush is helping lead the fight against cervical cancer in his post-presidential years and has so far helped raise more than $85 million …