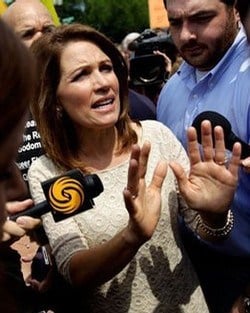 Failed Republican presidential candidate and perennial anti-gay Rep. Michele Bachmann and four of her GOP colleagues last month asked the House of Representatives to launch an investigation into whether or not Muslim extremists had infiltrated the United States government.
One person specifically named as a potential candidate for manchurian status was Huma Abedin, a former aide to Secretary of State Hillary Clinton who is also married to former Rep. Anthony Weiner.
According to Bachmann and company, Abedin has three family members aligned with Egypt's Muslim Brotherhood and therefore she deserves investigation.
According to House Speaker John Boehner and fellow Republican John McCain, that's hogwash. "I think accusations like this being thrown around are pretty dangerous," said Boehner, while McCain called the allegations "an unwarranted and unfounded attack on an honorable woman, a dedicated American, and a loyal public servant."
"When anyone, not least a member of Congress, launches specious and degrading attacks against fellow Americans on the basis of nothing more than fear of who they are and ignorance of what they stand for, it defames the spirit of our nation, and we all grow poorer because of it," the Arizona Senator said.
Bachmann seems unfazed by this intraparty criticism, which she told CNN was based on distortions, and remains steadfast in her concern that extremists may be able to get to President Obama: "The intention of the letters was to outline the serious national security concerns I had and ask for answers to questions regarding the Muslim Brotherhood and other radical group's access to top Obama administration officials."