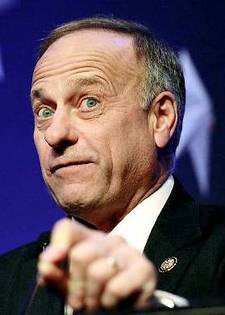 Republican Rep. Steve King of Iowa today attached an amendment to a Defense Appropriations Bill that would ban not only same-sex marriages on military bases, but also orders military chaplains to steer clear of such ceremonies.
"The Defense of Marriage Act means this: Marriage means only a legal union between one man and one woman as husband and wife. And the word 'spouse' only refers to a member of the opposite sex who is a husband or a wife. Pretty simple statute being contravened by the president of the United States as exercised through the Secretary of Defense," King said of the President and the State Department's position that same-sex marriages should be allowed on bases.
"This amendment prohibits the use of military facilities or the pay of military chaplains for being used to contravene the defense of marriage act."
According to Politico, Democratic Congressman Norm Dicks of Washington called King's measure "contentious and discriminatory."