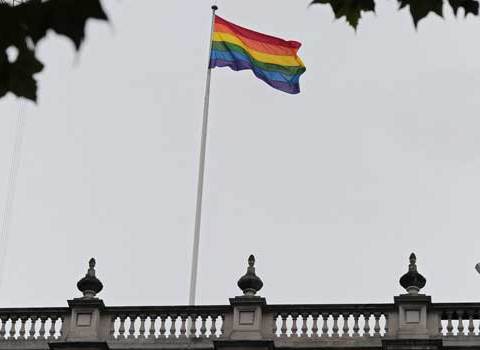 It's a big moment in England, where gay-friendly Deputy Prime Minister Nick Clegg made sure the gay pride flag was flying above Parliament for this weekend's truncated World Pride event.
From Dawn.com:
Deputy Prime Minister Nick Clegg requested the flag be flown on Whitehall, the central London street that houses several ministries, ahead of the World Pride parade celebrating gay rights in the British capital on Saturday.

"There has to be a first time for everything," said Clegg, leader of the Liberal Democrat party.

"Flying this iconic flag in the heart of Whitehall is a small but important emblem that the government and this country are behind equal rights," added Clegg, whose centrist party is junior partner in a coalition led by the centre-right Conservatives.
As Clegg celebrates pride, though, others in London are furious over the growing calamity known as World Pride. Due to budget shortfalls and mismanagement, the planned parade has now become a "procession" and a number of events have been called off all together, including an event in the city's Soho district.
An official statement from Pride London organizers:
To create a safe and incident-free event for revelers in Soho, Westminster Council will need to close key roads and uphold parking suspensions in the area. Because we couldn't provide the assurances required to pay the council for these closures, the application did not progress [and] we're forced to cancel all official Pride London events for this reason.

.. Whilst the streets of Soho will not officially be closed, the Metropolitan Police will ensure the safety of all in the area and close roads where appropriate.
While organizers are bearing the brunt of the criticism for this calamity, activist Peter Tatchell also lays some blame on gay London Mayor Boris Johnson.
"Like Pride, the mayoral team failed to involve other LGBT stakeholders and financiers to raise extra cash and to draft a credible rescue plan," Tatchell says. "If the Mayor had acted weeks ago, we would not be in this mess."