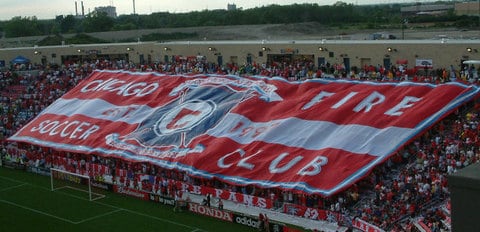 Creating the Midwest's first formal alliance between a professional sports team and a pro marriage equality organization, Chicago Fire Soccer Club and Equality Illinois announced late last week that they'll be working together for true equality in the Land of Lincoln, where there's currently a fierce debate over same-sex nuptials.
Chicago Business' Danny Ecker elaborates:
Initially announced during the Chicago Pride Parade late last month, when members of the Chicago Fire organization marched with the Equality Illinois float and its "I Do" marriage equality theme, the partnership involves several events during the month of July promoting lesbian, gay, bi-sexual and transgender rights awareness and providing the team an opportunity to provide support to the local LGBT community.

Other Chicago sports teams, including the Cubs and White Sox, have held promotional nights and donated items for silent auction fundraisers in the past, but none have officially partnered with Equality Illinois.
Chicago Fire President Julian Posada insisted the partnership is not just about making a "political statement." "It's just the right thing to do," he explained.
Equality Illinois CEO Bernard Cherkasov agreed that this is about more than just legislation and policy debate.
"This support from a major pro-sports team signals to fans and LGBT youth the diverse voices that embrace equality," he said. "When we have sports heroes and teams show their support, it takes the conversation away from politics."
As part of their commitment to equality, the Chicago Fire will be hosting a Pride Night on August 4th, when they play against Toronto's football club.