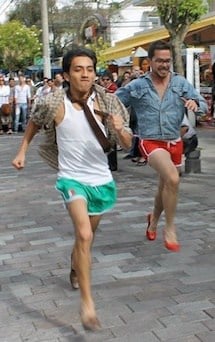 Secretary of State Hillary Clinton has made no secret of her commitment to LGBT rights around the world. "Gay rights are human rights," she has said on a number of occasions. Apparently her State Department colleagues in Latin America agree.
Only a few weeks after it was reported that the U.S. Embassy in Kenya was celebrating pride, Andrés Duque reports that half-a-dozen U.S. satellites in the Latin America took part in their own pride events.
For example, Anne Andrew, the U.S. Ambassador to Costa Rica, held a "roundtable" on LGBT rights there, while the U.S. Ambassador to Honduras, Lisa Kubiske, sent out a tweet reiterating the States' engagement on LGBT issues. "The US Government supports the Honduran LGBT community in their fight for equality and respect," she wrote.
Officials in Chile, Panama, El Salvador and Ecuador also sent representatives to pride parades or held their own events, including a high heel race to erode traditional gender norms in Ecuador. As you can see in the photo above, the participants were in it to win it.
Read Duque's excellent article HERE.