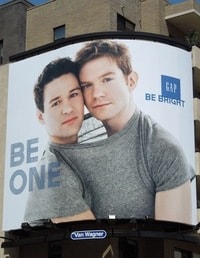 For anyone just now realizing that major retailers are courting LGBT consumers, the Wall Street Journal today offers a refresher on some of the most recent happenings in the pink economy, including JC Penney's controversial efforts to win over the often affluent communities.
Many retailers are turning their attention to gays and lesbians, a group that wields substantial buying power but isn't fully integrated into mainstream advertising. Similar to other moves to attract different minority groups, the push comes with risks, as it could threaten the retailers' relationships with some of their longtime shoppers.

Nonetheless, from J.C. Penney Co.'s high-profile hiring of openly gay Ellen DeGeneres as its spokeswoman, to Target Corp. selling same-sex greeting cards, retailers are trying ways to cozy up to a community that by one estimate is as much as 16 million strong and has almost double the disposable income of the average American—some $49,000 per capita compared with the $26,000 average.
The article also mentions the One Million Moms movement that targets gay-friendly companies, including JC Penney and, more recently, General Mills. That group had no comment.
JC Penney spokeswoman Kate Coutlas, however, did speak with the paper and while remarking on the company's recent catalog featuring gay dads, she said, "We are committed to being a store for all Americans. Our marketing reflects the diversity of today's families."