The Center for Human Rights and Constitutional Law has filed a class action lawsuit on behalf of Jane DeLeon and her wife Irma Rodriguez seeking to halt deportation proceedings against DeLeon and challenging DOMA. The lawsuit was filed in federal court in Los Angeles.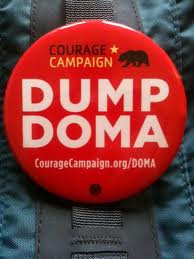 Writes The Center for Human Rights and Constitutional Law:
Irma and Jane met in 1992. They have resided together in a committed life-long relationship for 20 years. In 2008, they were lawfully married in California.
According to the lawsuit Jane DeLeon, an immigrant from the Philippines, has been residing with her US citizen partner in California for twenty years and they were married in 2008. The lawsuit claims that DeLeon has been approved for an immigrant visa based on her employment. However, because she entered the country in 1989 using the name of her then common-law husband, to get lawful resident status she needs a "waiver" from the U.S. Citizenship and Immigration Service ("CIS"). Such waivers are commonly available to immigrants whose deportation would cause extreme hardship to a US citizen spouse. In DeLeon's case the waiver was denied in September 2011 solely because she is married to another woman.
DeLeon and her son Martin had temporary lawful status for several years while their visa applications were being processed. When the government denied her waiver application, she was advised that her temporary lawful status was revoked and if she did not depart the country within 12 months she would be barred from reentry for a minimum of ten years.
The proposed class action lawsuit alleges that § 3 of the DOMA, as applied to deny same-sex bi-national couples immigration benefits routinely granted different-sex couples, denies due process and equal protection of the law in violation of the Fifth Amendment to the United States Constitution.
Read the complaint HERE.