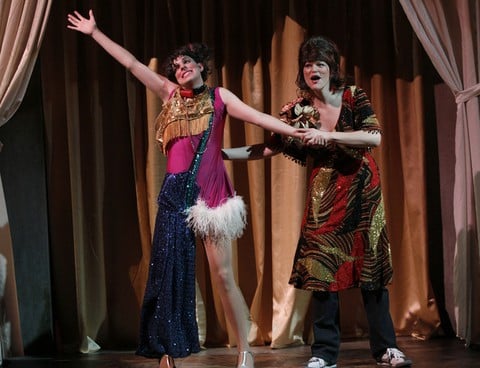 Reporter Misha Berson got to see Miracle!, Dan Savage's take on the classic Miracle Worker story of how Helen Keller, born blind, deaf and dumb, learned to communicate with the outside world.
Here's a portion of Berson's Seattle Times review:
Awash in Keller jokes, gritty repartee and sexually graphic (though clothed and wigged) routines, Miracle! is rather like a naughty kid trying to get a rise out of his uptight parents.

Yet it's also a messy, nostalgic paean to the old-school cabaret drag where male entertainers are padded, dolled up and spangly-gowned (by the laudable Erik Andor) to glam, snipe, bond and lip-sync to the Andrews Sisters and Gloria Gaynor.

Director-writer Savage, noted author and gay activist, twists the saga of the untamed, disabled Keller and devoted teacher Annie Sullivan into the taming of a deaf, blind and mute drag prodigy, Helen Stellar (Jonathon Pyburn), by butch therapist Annie (a strong Hannah Victoria Franklin).

The more ludicrous gags, as when little Helen stumbles and bellows in her pathetic act, score big laughs — and big winces. And some bits (undescribable here) are just gross-outs.
Berson also notes that a sign outside Miracle! both warns and boasts that the show includes "disgusting language," "simulated sex acts" and "vulgar, nasty jokes," all of which can make some pretty great theater.