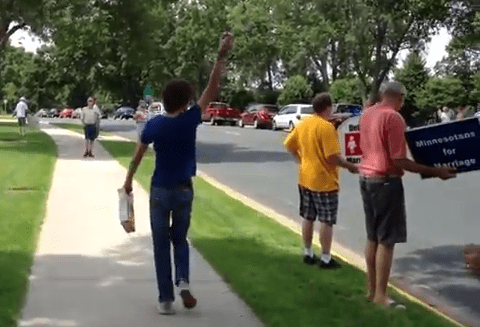 Andrew Parrish, spokesman for the anti-gay group Minnesota for Marriage posted this video of a gay activist glittering a crowd protesting General Mills over the company's support for marriage equality. The video's description — and the related headline from the equally homophobic National Organization for Marriage — presents the group as victims, particularly the seniors and children.
"Minnesota for Marriage peacfully [sic] demonstrating outside General Mills then these kids showed up. Some of the kids were as young as three and some of the seniors as old as 85 plays victim," it reads, conveniently ignoring the fact that the activist is himself a kid: I'd estimate 16 or so.
Watch the video AFTER THE JUMP.
(via JMG)