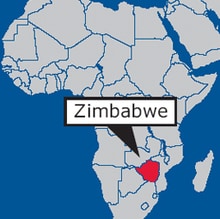 Two Zimbabwean men have been arrested after a third party discovered pictures of them "embracing" in bed.
According to New Zimbabwe, one of the men, known only as Andrew, left his phone to charge with employees he knew at a local mobile phone store. One of those employees went through the phone's pictures and found images indicating Andrew and another man from the neighborhood were in a gay relationship. He then called the police, who have confirmed the arrest.
"I can confirm that we have arrested two men who are assisting officers with their investigations following the discovery of a set of images of a sexual nature. No charges have been brought at present," said a police spokesman. The men are still being held.
Not only is homosexuality illegal in Zimbabwe, it's considered an abomination by most of the population and President Robert Mugabe has made a habit of lambasting gay people, whom he likens to "filth."
Same-sex love is so disdained there, in fact, that people who heard about the pictures prior to the arrest gathered around Andrew and his alleged lover and wanted to "mete out instant justice," according to one witness.
As for Andrew, he claimed he and his friend had gotten drunk and "ended up behaving strangely," but that they're not in a relationship.