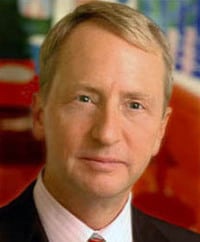 The Gay and Lesbian Victory Institute received an influx of cash from millionaire entrepreneur David Bohnett today.
Totaling $800,000, the donation from Bohnett's eponymous fund will help the Institute continue its work training and preparing LGBT Americans for public office.
From the Gay and Lesbian Victory Fund and Institute's website, Gay Politics:
Graduates of the program include some of the country's top LGBT political talents, including Houston Mayor Annise Parker, New York State Sen. Tom Duane, Dallas Sheriff Lupe Valdez and San Francisco Treasurer Jose Cisneros.

"So much is at stake for the next wave of LGBT leaders, and the Leadership Fellows program reflects this pivotal period," said David Bohnett, the philanthropist and entrepreneur for who the [David Bohnett LGBT Leadership Fellows] program is named. "It empowers LGBT leaders who are making a difference in the world—it hones their skills and furthers their leadership potential."
Institute CEO Chuck Wolfe said Bohnett's money "will help us expand and deepen the Bohnett Leadership Fellows program, and that will pay huge dividends as these leaders go on to brilliant careers in public service." Here's hoping.