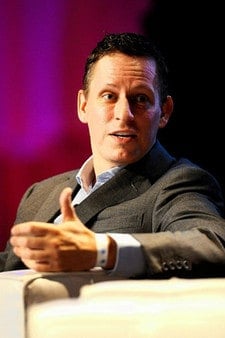 In the NPR article about gay political donations cited earlier, journalist Ari Shapiro mentions a 1988 incident in which Democratic presidential candidate Michael Dukakis turned down a $1 million donation from gay donors. Juxtaposing that fact against today's far more gay-friendly fundraising climate showed how far the nation has come in terms of LGBT acceptance.
But that doesn't mean the States have completely evolved on the "acceptability" of LGBT dough. Just look down at Texas, where a donation from Peter Thiel (pictured) is complicating Tea Party U.S. Senate hopeful Ted Cruz's campaign.
Lt. Gov. David Dewhurst, Cruz's opponent in the upcoming GOP primary run-off, is currently criticizing his rival for accepting $5,000 from Thiel, the openly gay PayPal co-founder and Facebook investor who has dedicated hundreds of thousands to equality causes.* As the July 31 runoff nears, Dewhurst's team is saying self-proclaimed conservative Cruz's alignment with a pro-gay businessman is "deceptive." 
"It's hypocritical and deceitful for Ted Cruz to claim to be a Tea Party Republican when his largest donor spends millions of dollars pushing the opposite side of conservative issues important to Republicans," said Mark Miner.
Former Dallas Mayor Tom Leppert, a former contender in this race, also used Thiel against Cruz, citing the $250,000 Cruz took from Thiel in his failed 2009 state attorney general race. "[Cruz] received a quarter-of-a-million dollars from the gay activist who was leading the fight for gay marriage in California," Leppert said.
Thiel had no comment on this controversy, but Cruz, who once attacked Mayor Leppert for attending Dallas pride, responded by reiterating his opposition to marriage equality, one of Thiel's primary political purposes.
"Ted's record of defending marriage between one man and one woman is as clear and unwavering as his commitment to reduce the size of government and defend the Constitution come hell or high water," said a Cruz spokesperson. The candidate, however, is "grateful" for any and all support.
*(In a strange "six degrees of Facebook separation," the site reporting on this, The Texas Tribune, is edited by Evan Smith, a former deputy editor at The New Republic, the liberal magazine now owned by gay Facebook co-founder Chris Hughes. The Texas Tribune headline on this topic is "Cruz Mega-Donor is Gay, Pro-Pot Billionaire.")