Congresswoman Ileana Ros-Lehtinen (R-FL) stands alone in her party on both DOMA and marriage equality, coming out for the latter this week, the Washington Blade's Chris Johnson reports: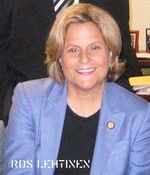 Rep. Ileana Ros-Lehtinen, the only Republican co-sponsor of legislation to repeal the Defense of Marriage Act, confirmed on Tuesday she supports same-sex marriage after remarks she delivered at the launch of Young Conservatives for the Freedom to Marry at the Capitol Hill Club in D.C.
Asked by the Washington Blade whether she's a supporter of same-sex marriage in addition to backing DOMA repeal, Ros-Lehtinen initially expressed confusion about why the question was being asked, saying, "I don't know why you're asking that. It's such a weird way." But she later affirmed she's a supporter of marriage equality.
"Oh, yeah, I am," Ros-Lehtinen said. "I thought you were trying to get some tricky thing here. No I am."
Read Johnson's full article here.