TV's George Jefferson, Sherman Hemsley, was found dead at his El Paso home today: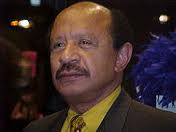 The cause of death was unclear but TMZ cited anonymous sources who said it appeared to be natural causes. TMZ said he was discovered by his nurse, who first thought he was sleeping.
Hemsley did not have a wife or children.
Hemsley, who first played George Jefferson on All in the Family, became a star with the successful spinoff The Jeffersons. He was among the small number of black actors who pioneered leading roles in successful sitcoms. He also played Deacon Ernest Frye on Amen.