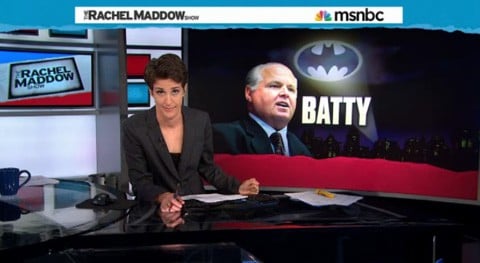 Rush Limbaugh, the head of the Republican party, floated his conspiracy theory yesterday that the villain Bane, from the new Batman flick Dark Knight Rises, is a Hollywood plot to continue bringing Mitt Romney down because it sounds like 'Bain' capital.
Maddow lets loose:
"Yes, see the villains in Batman were pre-named decades in advance in anticipation of the 2012 presidential election in which one of the candidates would have a contested affiliation with a company named Bain. That's why they named that villain Bane. The conspiracy is deep and it has decades of foresight. Also, Gone with the Wind was an early salvo of the clean energy movement."
Adds Maddow: "The modern American Right is hermetically sealed in a media universe that lets in no natural light and no air."
Check out the mockingly hilarious segment, AFTER THE JUMP…
Visit NBCNews.com for breaking news, world news, and news about the economy