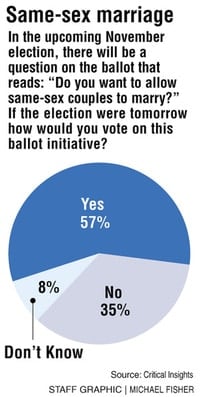 A new poll shows that a majority of voters in Maine support marriage equality.
From The Morning Sentinel, via JMG:
Mainers support legalizing same-sex marriage, 57 percent to 35 percent, according to a statewide poll commissioned by the Portland Press Herald.

The proposal on the Nov. 6 ballot to allow gay couples to marry in Maine has broad support among most groups of voters. That support is especially strong in southern and coastal Maine and among young adults, women and Democrats, according to the poll.

The 22-point lead is clearly good news for backers of the ballot initiative. But, experts say, the margin of support is certain to be much smaller by Election Day.
These numbers come less than two weeks after equality activists in The Pine Tree State announced they have raised more than $1 million.