Marriage Equality USA today named Brian Silva its new full-time Executive Director, the group announced in a press release: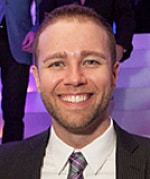 A member of MENY since 2008, Silva helped coordinate MENY's participation in the 2009 National Equality March in Washington DC, multiple Equality and Justice Days in Albany, and chaired the 2010 7th NYC Wedding March across the Brooklyn Bridge. In the spring of 2011, Silva became Deputy Executive Director, leading MENY's participation in the New Yorkers United for Marriage Coalition formed by Governor Andrew Cuomo. After the state-level marriage equality bill was passed, Silva assumed the role of Executive Director of MENY, jump-starting MENY's role on a national level by coordinating phone banks and assisting out-of-state marriage organizations to help marriage efforts in New Hampshire and New Jersey, as well as MENY's membership in the federal Respect for Marriage Coalition.
Said Silva: "2012 is a historic year for marriage equality, with the issue on the ballot in four states this November and legal challenges to DOMA and Prop. 8 moving forward to the Supreme Court. This is an incredibly exciting time for our movement, and I am looking forward to rolling up my sleeves immediately as MEUSA expands grassroots efforts across the country to win equal marriage rights nationwide."
Added MEUSA Board Co-President Cathy Marino-Thomas: "The strength of Marriage Equality [USA] has always been its volunteer staff, chapter leaders and countless individuals. MEUSA needed an Executive Director with proven skills to harness that energy to empower and expand the national and local initiatives that have made us such a critical partner in this movement – we know we have found that in Brian Silva, and we look forward to many more successful campaigns to come under his leadership."