Maryland's Board of Elections certified the petition placing a marriage equality repeal measure on the state's ballot in November, the Baltimore Sun reports: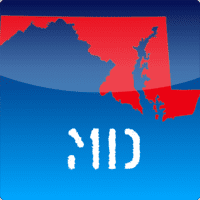 "We're excited, we're on the ballot," said Dereck McCoy, executive director of the Maryland Marriage Alliance, a church-led group pushing to repeal the law. "We're glad that we were able to have a loud say."
The Maryland Marriage Alliance submitted 162,224 signatures to repeal the law — the most turned in on any referendum issue in recent memory. The Board of Elections stopped verifying after approving 109,313 of them.
"We've determined that the petitions satisfied the legal requirements," said Donna Duncan, director of the elections management section of the state Board of Elections.
A spokesman for Marylanders for Marriage Equality, a group defending the new law, would not say whether his group plans to mount a court challenge. "We're not taking any options off the table," said Kevin Nix, the spokesman.
In late June, it was reported that the anti-gay marriage group was in massive debt, with more than $88,000 owed to various vendors.
A poll released shortly after Obama's endorsement of marriage equality in late May showed that his words had an impact, Dominion of New York reported:
A poll released yesterday shows that Maryland's support for gay marriage has increased 12 percent since Obama's endorsement, with most of the shift coming from African-American voters who have flipped their stance on the issue. Fifty-five percent of Maryland blacks now support gay marriage and would vote against such an amendment and 36 percent oppose it, according to the poll. It's likely Obama's endorsement affected them. Before it, 56 percent of blacks opposed gay marriage and 39 percent supported it.