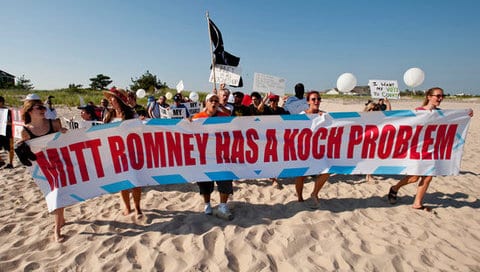 Republican presidential candidate Mitt Romney jetted around the Hamptons yesterday to attend three fundraisers, including one held at the home of billionaire conservative contributor David Koch.
About 200 protesters also headed to the Hamptons to let the world know what they think of Romney's alliance with Koch and his equally rich brother, Charles Koch: nothing good.
"We're here because of David Koch and his vow to purchase a president. It doesn't sound like democracy to me," said one Occupy Wall Street Activist. MoveOn.org, Occupy Long Island and the Long Island Progressive Coalition also had representatives there.
Romney's campaign, expected to have raised $4 million during the Hamptons events, wrote the protests off as a liberal attempt to distract from Obama's failure, according to CNN.
[Image via NY Times.]