New Jersey Devils forward Cam Janssen today released a statement via his organization apologizing for language he used in an interview earlier this week: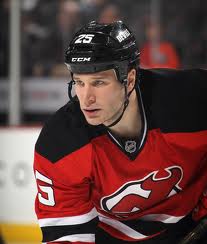 "Earlier this week, I participated in an internet-based radio show in which I used some poor judgment which I now regret. The New Jersey Devils were unaware of this interview, which I arranged myself.
"I would like to apologize for my poor choice of language. The tone of the interview was very casual and off-color, and I lost focus on what is and is not acceptable and professional. I am deeply sorry to anyone who was offended by my language. Moving forward, I hope to eliminate that type of language from my vocabulary. I would also like to take this chance to express my support for the work the You Can Play project is doing, and for the gay community in general.
"I apologize for the embarrassment my comments have caused to the New Jersey Devils management, as well as my teammates."
Said Janssen in the interview:
Janssen: "There's some sh*t-talkin' that goes down that pisses some people off. There's a lot of personal sh*t, man, like, guys know personal sh*t. … You wanna get in people's heads to get them off their f*ckin' game and don't get me wrong, you don't wanna go too deep with sh*t because we all have our issues here. Let's be honest."
Host: "But if the guy was suckin' c*ck four weeks ago, you're gonna let him know about it?"
Janssen: "Oh, if he's suckin' c*ck, he's gettin' his ass kicked." [laughter]
Janssen also compared losing to the Kings to "the first time you bang a fat chick."
Patrick Burke of the You Can Play project, which battles homophobia in pro hockey, accepted Janssen's apology: "People unwilling to give Cam a chance to learn from his mistakes are doing no more to support You Can Play than he did in his interview."