After initially snubbing him because he was "afraid of saying something wrong", New England Patriots tight end Rob Gronkowski answered a couple of questions for Outsports' Cyd Zeigler at the ESPY's: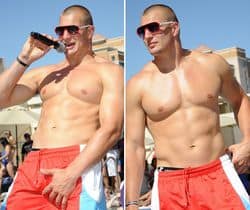 He gave me time for two questions.
"Have you ever played with a gay teammate?" I asked.
He thought for a moment and said he didn't know of any.
"How would you feel if one of your teammates on the Patriots came out of the closet this season?"
This time he didn't pause.
"If that's how they are, that's how they are," Gronkowski said. "I mean, we're teammates so, as long as he's being a good teammate and being respectful and everything, that's cool."
After all, if you're willing to "eff Tebow to take his virginity," you should be fine with a gay teammate.