Pope Benedict has named Oakland Bishop Salvatore Cordileone, a central strategist in the campaign to pass Proposition 8 in California, the new Archbishop of San Francisco, SDGLN reports: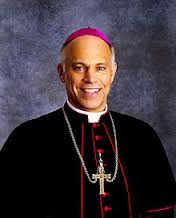 Cordileone played a central role in founding and executing the Protect Marriage campaign, and under his influence, Catholic organizations in California played a leading role in financing the Prop 8 campaign. His partners included the National Organization for Marriage (NOM) and Focus on the Family. In fact, it was Cordileone who personally phoned NOM co-founder Maggie Gallagher and asked her to get NOM involved in the Prop 8 fight.
Now, as Archbishop of San Francisco, Cordileone will oversee more than 400,000 Catholic parishioners across 90 parishes. As a metropolitan archbishop, Cordileone will have bishops in dioceses including Las Vegas, Salt Lake City, Honolulu, Sacramento and Reno under his supervision.
"Bishop Cordileone has proven himself to be an anti-gay activist who encourages and promotes discrimination against LGBT people," said Chad Griffin, HRC president.
Cordileone will be ordained in early October.